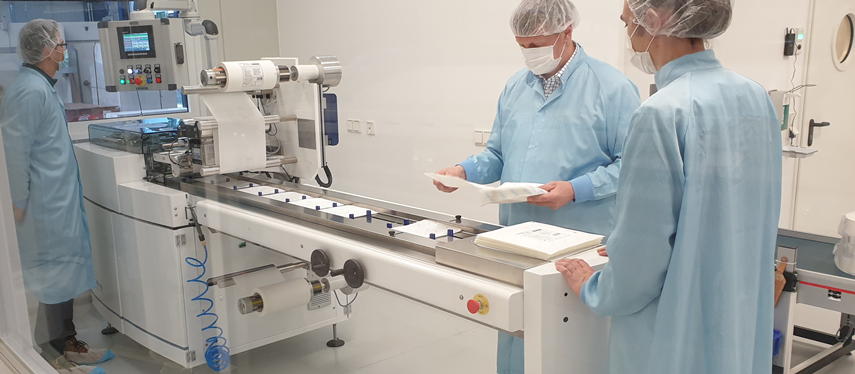 Expert in flexible medical packaging, ALL-WRAP Packaging Machinery is positioned as a leader in the global market of flexible packaging machines for medical devices.
Founded almost 25 years ago by the COLSON family, ALL-WRAP Packaging Machinery provides reliable and efficient solutions in the field of 4 side seal medical packaging. In 2015, Nicolas Colson - son of the owners and ENSAM Engineer - joined the company as Project Manager.
Among the range, the RCN horizontal rotary 4SS machines are well-known in this field and designed for medium- and large-scale production.
Thanks to their modular design with smooth and low-noise rotary motion, they can be easily integrated into any production environment and extend with RG 450 rotary converting machine for sterilization reels, VPM 300 vertical pouching machine designed for thicker products such as surgical instruments or catheters, and H3SS flow pack machine for the packaging of bandages and laboratory (or test) vials for example.
With its unique range of packaging machines, its technical disciplines, its research and development capabilities, ALL-WRAP Packaging Machinery takes a tailor-made approach to provide customized solutions that perfectly match its customers' specific needs.
Equipped with the latest innovations, the RCN range is specialized in the packaging of surgical gloves, swabs and dressings. As we maintain a consistent focus on innovation, we offer two automation solutions: Schneider Electric® and Siemens® with Simotion® axis controllers and user-friendly touch screens. Multiple user access levels with password protection guarantee an optimal safety and traceability. Both solutions benefit from production tracking systems.
Combining design with state-of-the-art technology, ALL-WRAP Packaging Machinery complies with the most stringent requirements for 4 side seal medical packaging in accordance with applicable regulations.
Quality, excellence, innovation, reliability, and customer satisfaction are the core values of ALL-WRAP Packaging Machinery which are reflected in the company reputation and global reach.
Our customers can always count on our responsiveness and support whenever needed through our after-sales service, hotline, and remote assistance every day of the year.
"Satisfying our partners' needs, demonstrating competitiveness and offering innovative solutions are our top priorities. Our expertise and commitment to quality have earned us a reputation beyond our borders. Many world-renowned companies trust us. Today, we operate in over 35 countries around the world."
Claire Colson - General Manager