Horizontal or Vertical Cartoning Machine - MRA HI/VI & HC/VC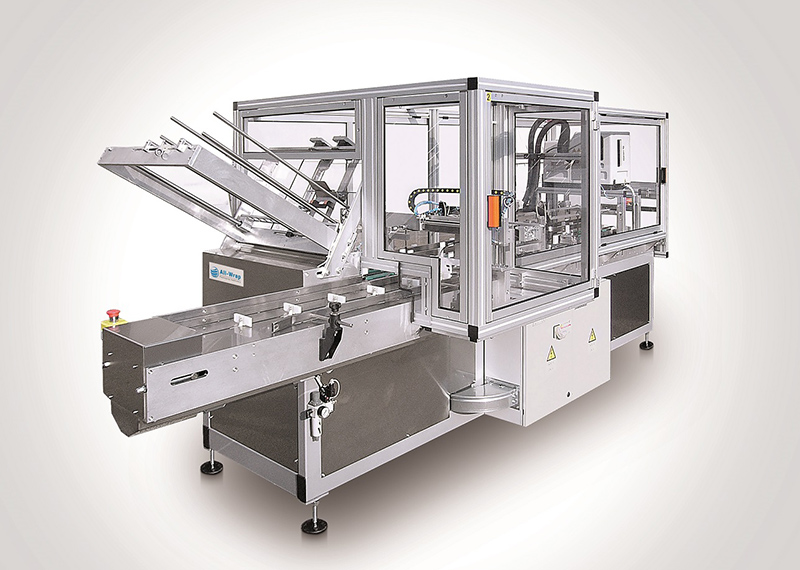 The cartoning machine MRA is designed for opening, filling and closing the pre-glued cardboard boxes.
It is widely used for the packaging of medical devices and pharmaceuticals, etc., and can vary according to the scale of the company.
It is suitable for:
Gauze swabs
Wound care dressings
Surgical gloves
Any products already packed in 4 side seal pouches.

Product Features:
Available in different versions depending on the project:
Horizontal intermittent.
Horizontal continuous.
Vertical intermittent.
Vertical continuous.
Power: 7,5 kW – 400 Volts
Dimensions: L 3,60 x W 1,00 x H 2,00 m 
Weight: 700 to 1,000 kg depending on the version
Type of boxes:
Tucking flaps
Glued short or full flaps.
With bended or rounded sides.
Flip-top openings.
Others on request.
Output:  
15 to 40 or 30 to 80 cycles/min (depending on the version)
Boxes sizes:
L: 50 to 300 mm. 
W: 20 to 70 mm.
H: 150 to 400 mm.
Size changeover: 
40 to 60 or 60 to 120 boxes/min (depending on the version)
Options:
Storehouse extension.
Product stacker.
Leaflet feeding unit.
Code marker.